Luxury four bedroom apartment for sale in the Center of Nicosia
273 sq.m.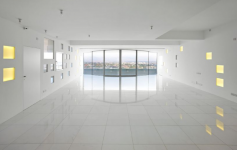 DESCRIPTION
Four bedroom apartment for sale at the center of Nicosia , located on the 12th floor of the White Walls building that includes 10,000 sq.m. of retail spaces, offices and apartments.
On the south facade, large planting areas on each floor run the length of the building so as to create a vertical "green" screen modulating the sunlight that reaches the interior of the apartments. A natural brise soleil protects the apartments during the summer months, while during the winter months, when the plants shed their leaves, it allows as much sunlight as possible to reach the interior of the apartments. The massive concrete walls on the east west elevation are negated by numerous perforations, an ethereal reference to the pixels of a highly enlarged image on a computer screen. The perforations are sometimes overflown by vegetation from the internal gardens and at other times act as openings to the rooms behind.  On the north elevation large balconies open up the building to the view of the medieval city and allows the occupants to enjoy the temperate climate of the island.  
White Walls has been named Best Tall Building Europe 2016 by the Council on Tall Buildings and Urban Habitat (CTBUH). It has been selected among a large number of iconic European buildings, including the Headquarters of European Central Bank in Frankfurt, The Allianz Tower in Milan, The Grattecielo Intesa Sanpaolo in Torino, the Allianz Tower in Istanbul and numerous other landmark buildings.  The reasoning of the CTBUH award included the fact that the White Walls has single-handedly transformed the urban silhouette of Nicosia, the capital of Cyprus, drawing upon its context to deliver a residential-office tower that is unmistakably Mediterranean, yet global influential with its highly successful environmental considerations.