Four bedroom villa which combines all time classic luxury and design with modern high standards
ΒΙΛΑ ΤΕΣΣΑΡΩΝ ΥΠΝΟΔΩΜΑΤΙΩΝ ΠΟΥ ΣΥΝΔΥΑΖΕΙ ΤΗΝ ΚΛΑΣΙΚΗ ΠΟΛΥΤΕΛΕΙΑ & ΤΟ ΣΧΕΔΙΑΣΜΟ ΜΕ ΤΙΣ ΣΥΓΧΡΟΝΕΣ ΥΨΗΛΕΣ ΠΡΟΔΙΑΓΡΑΦΕΣ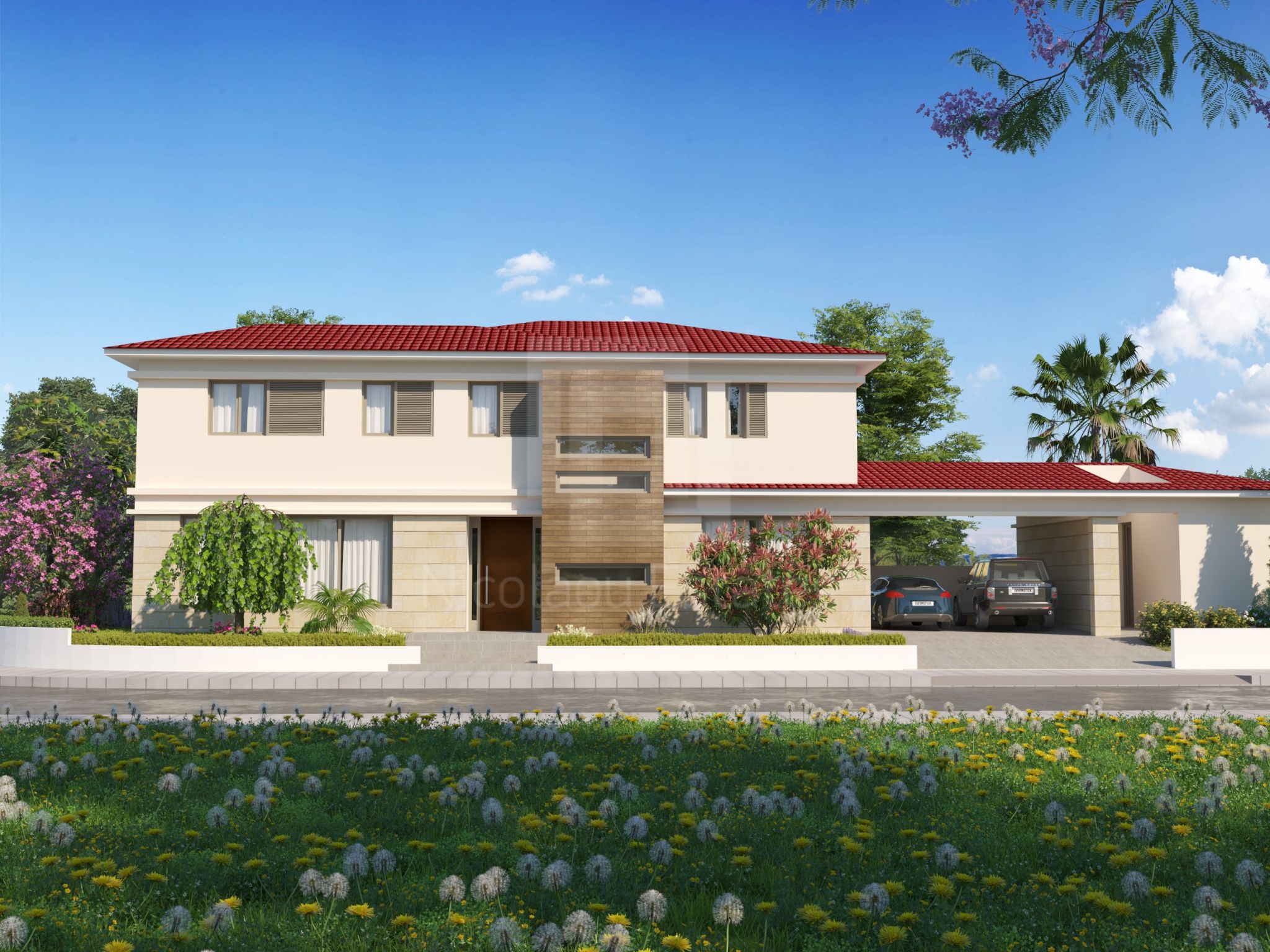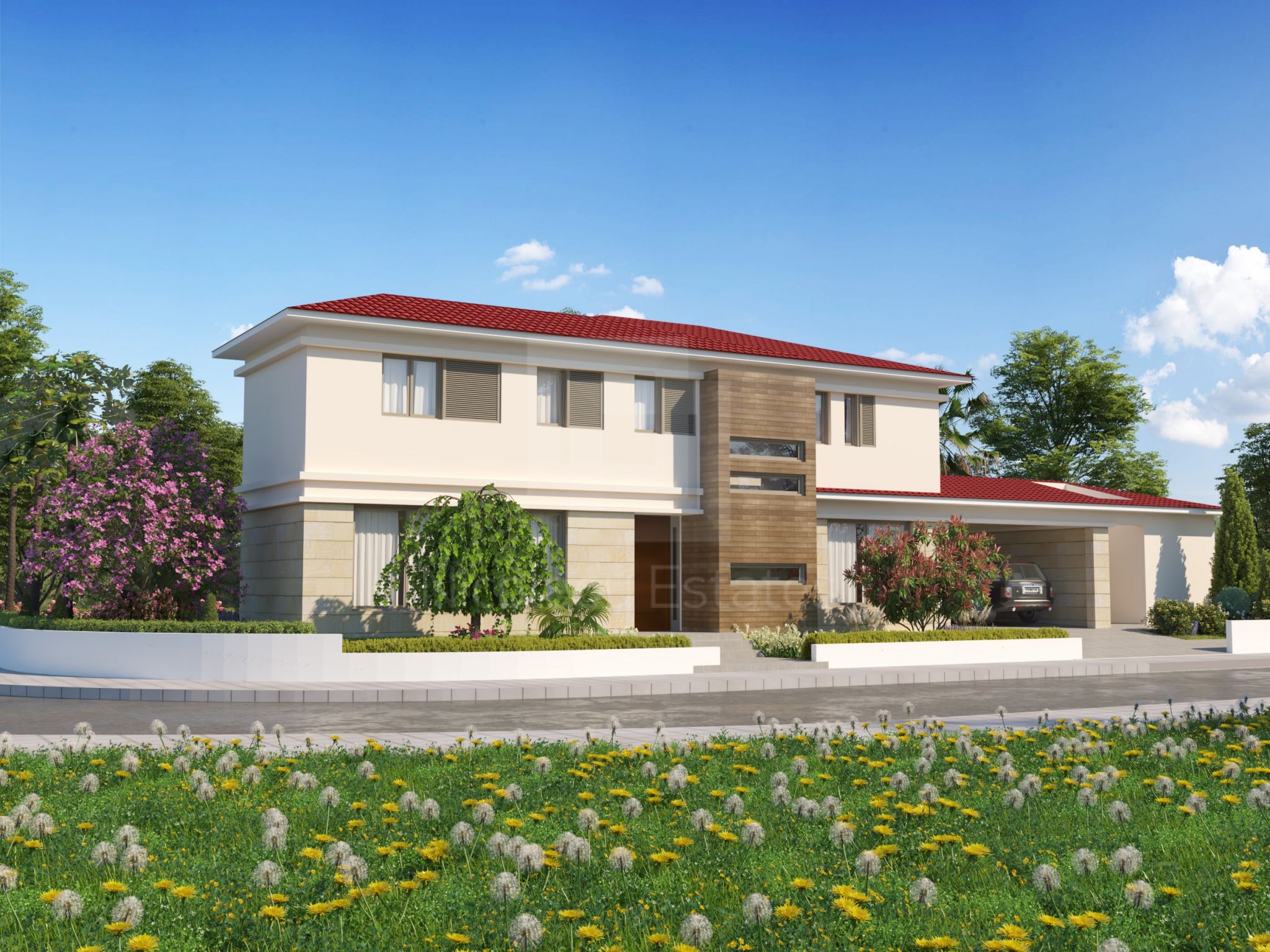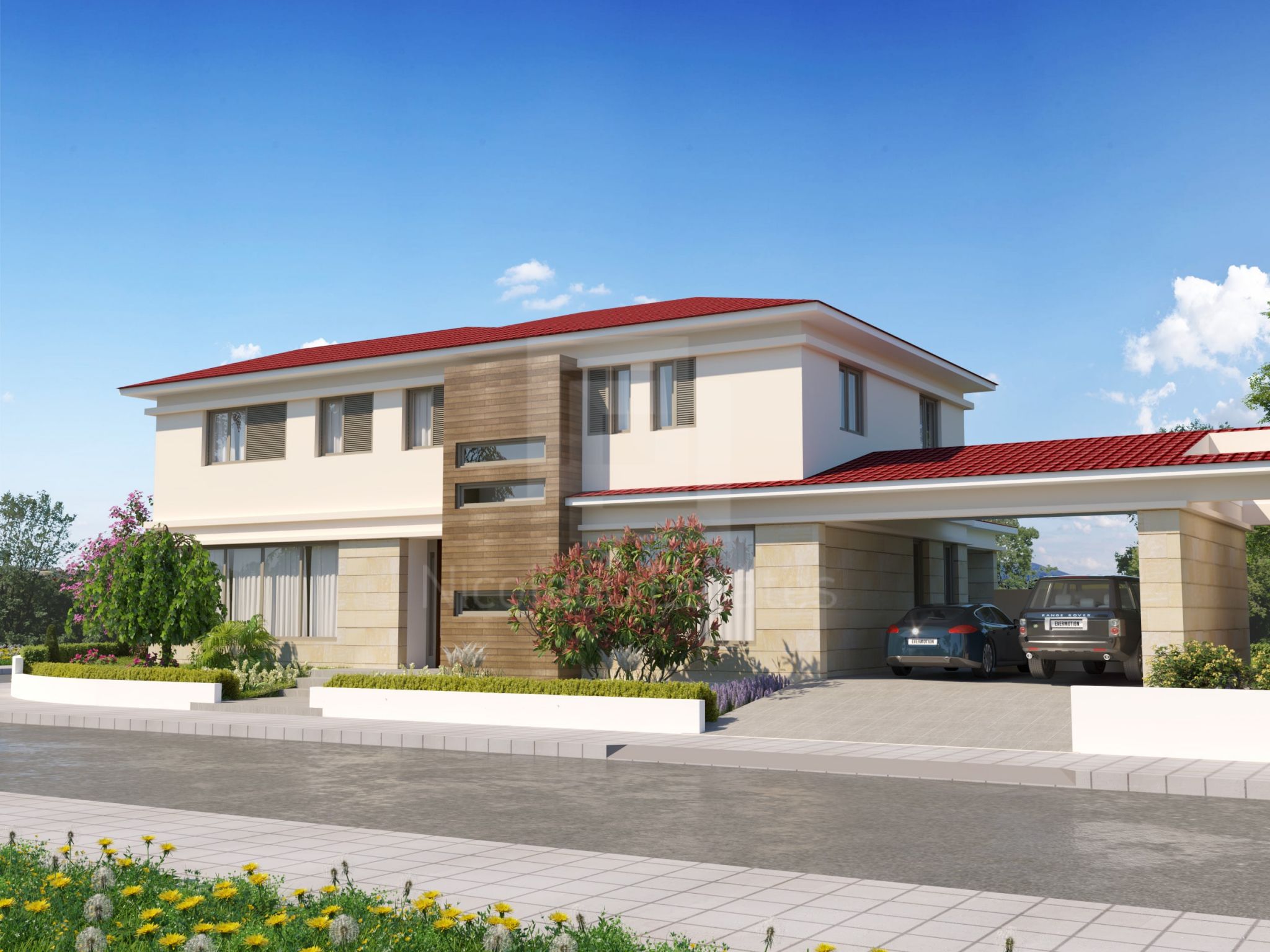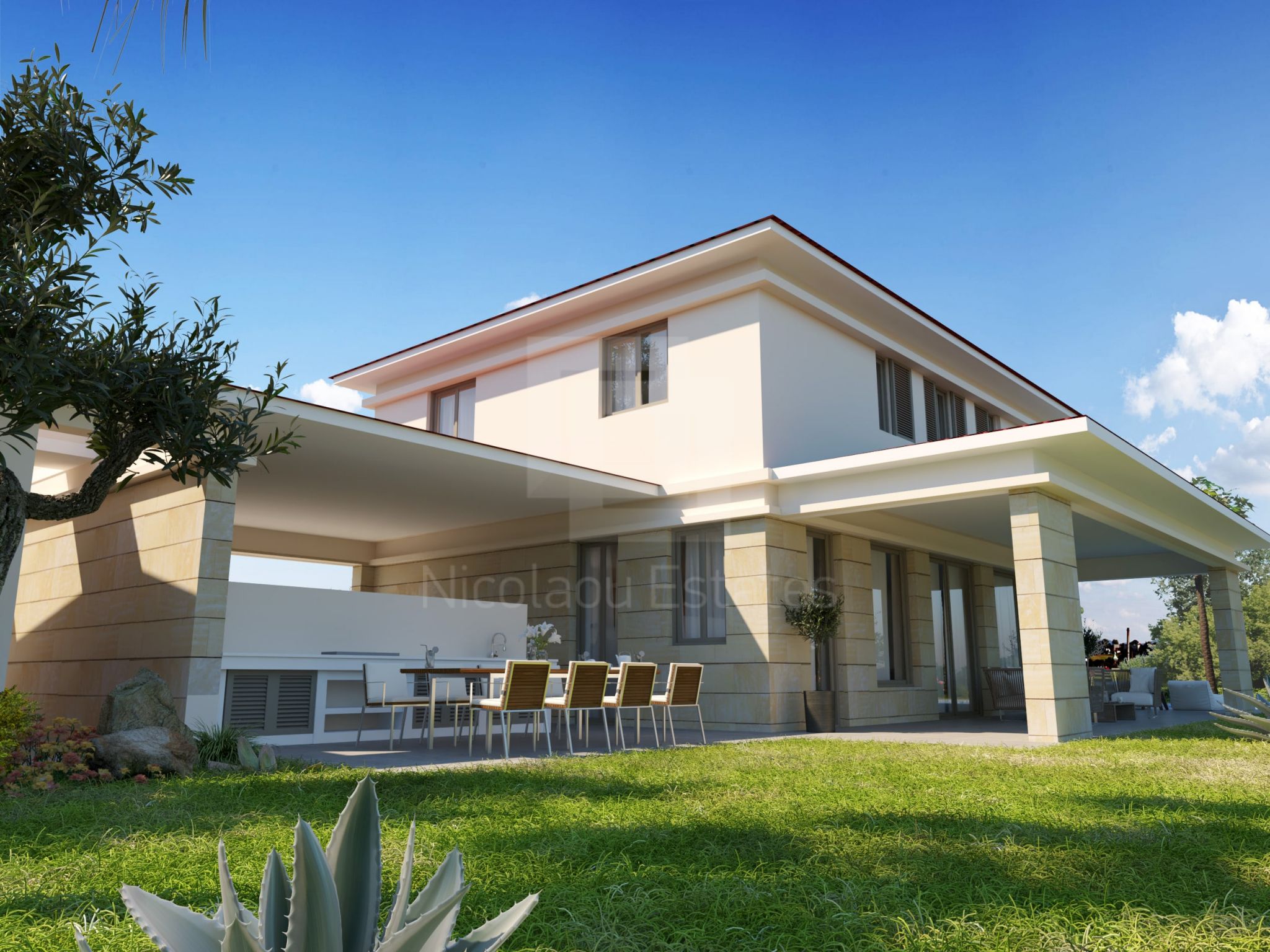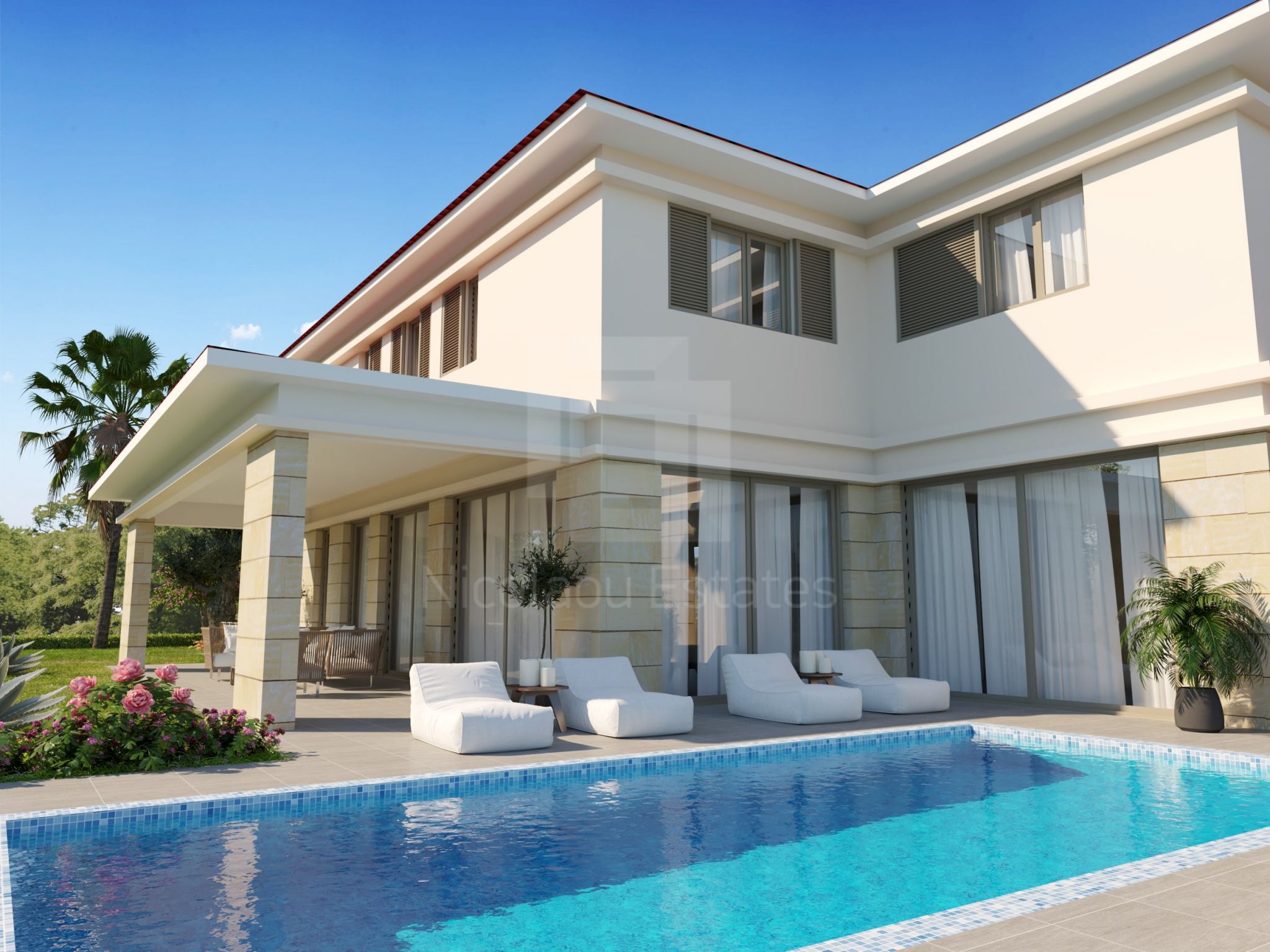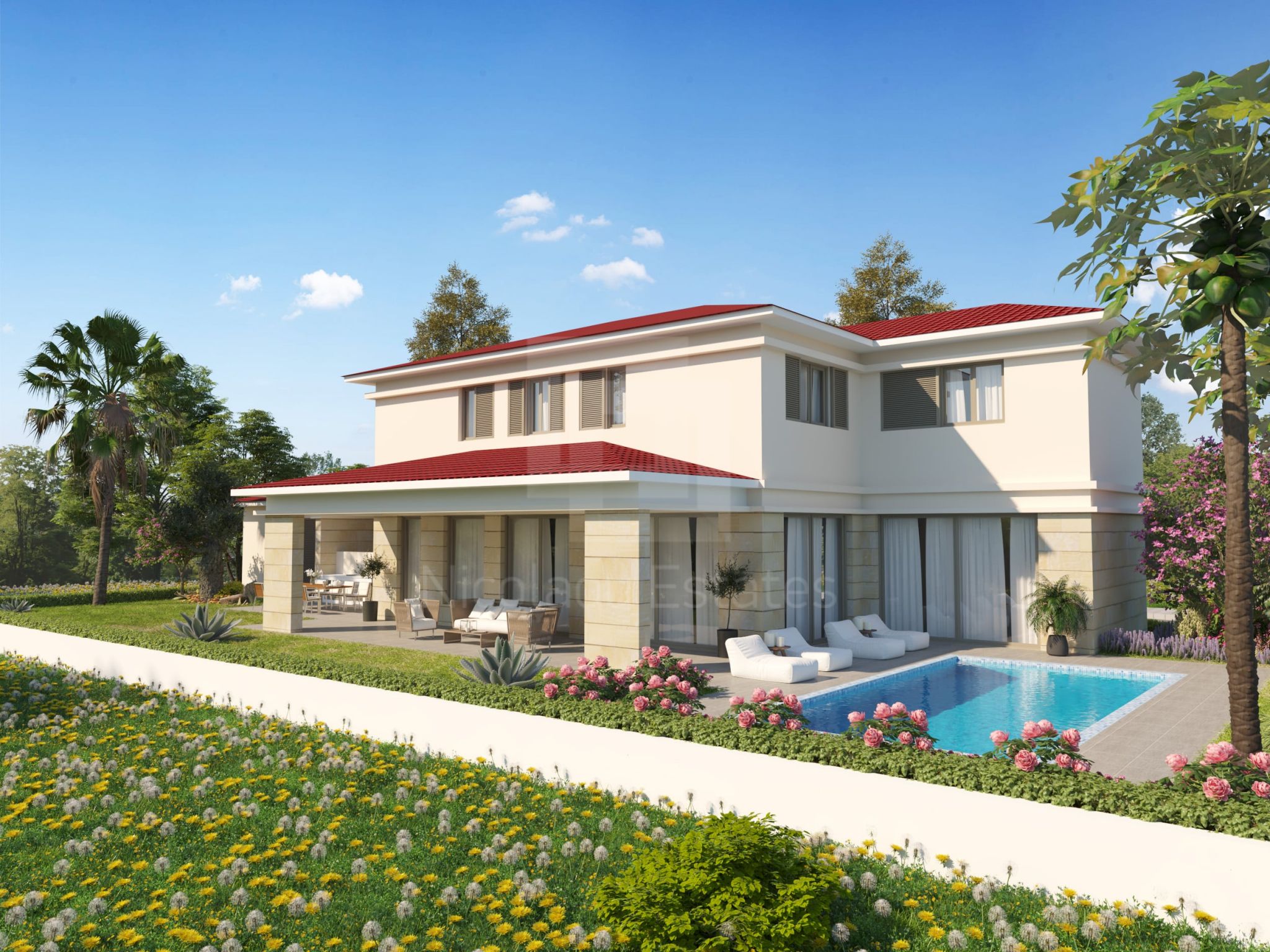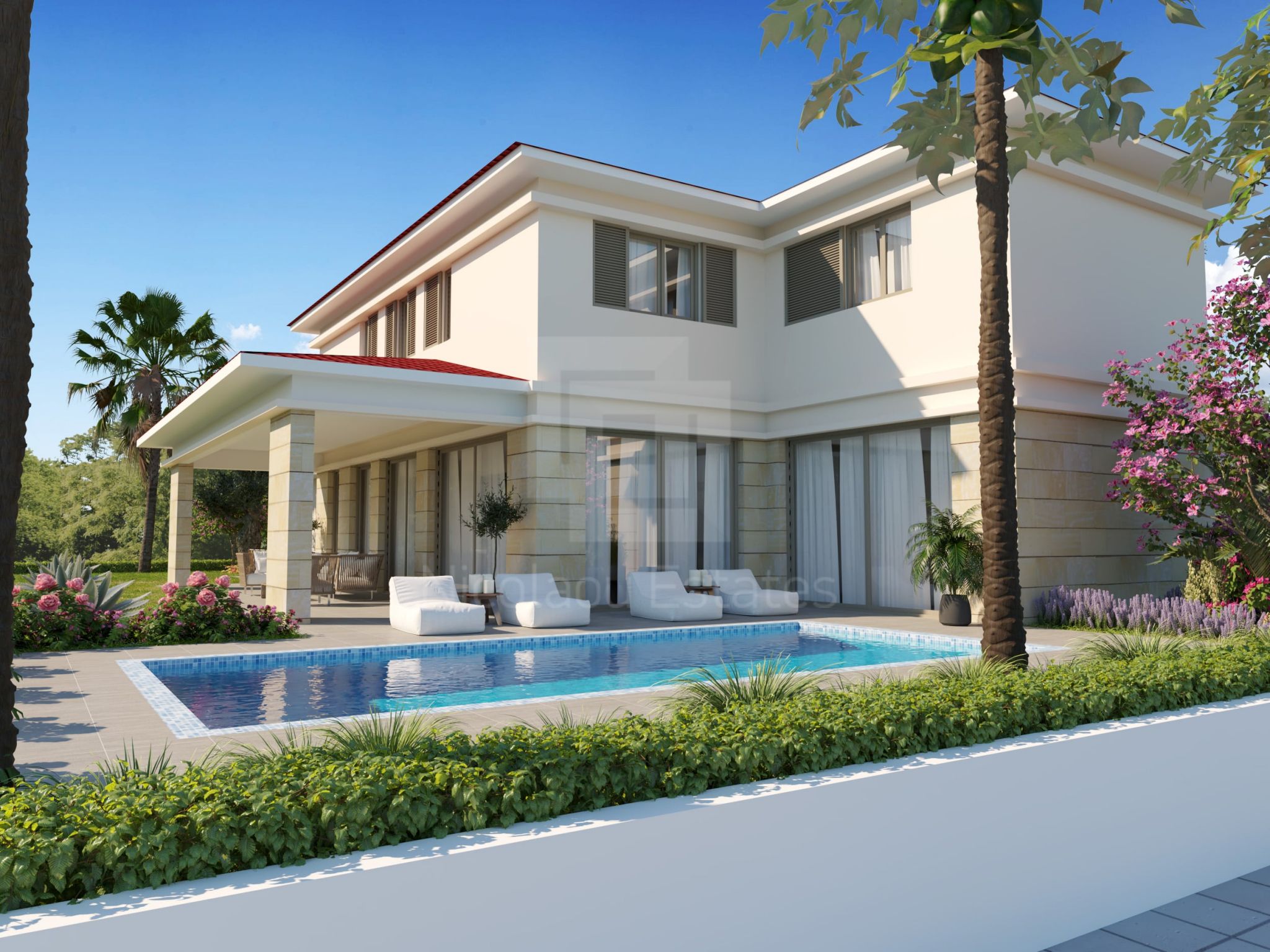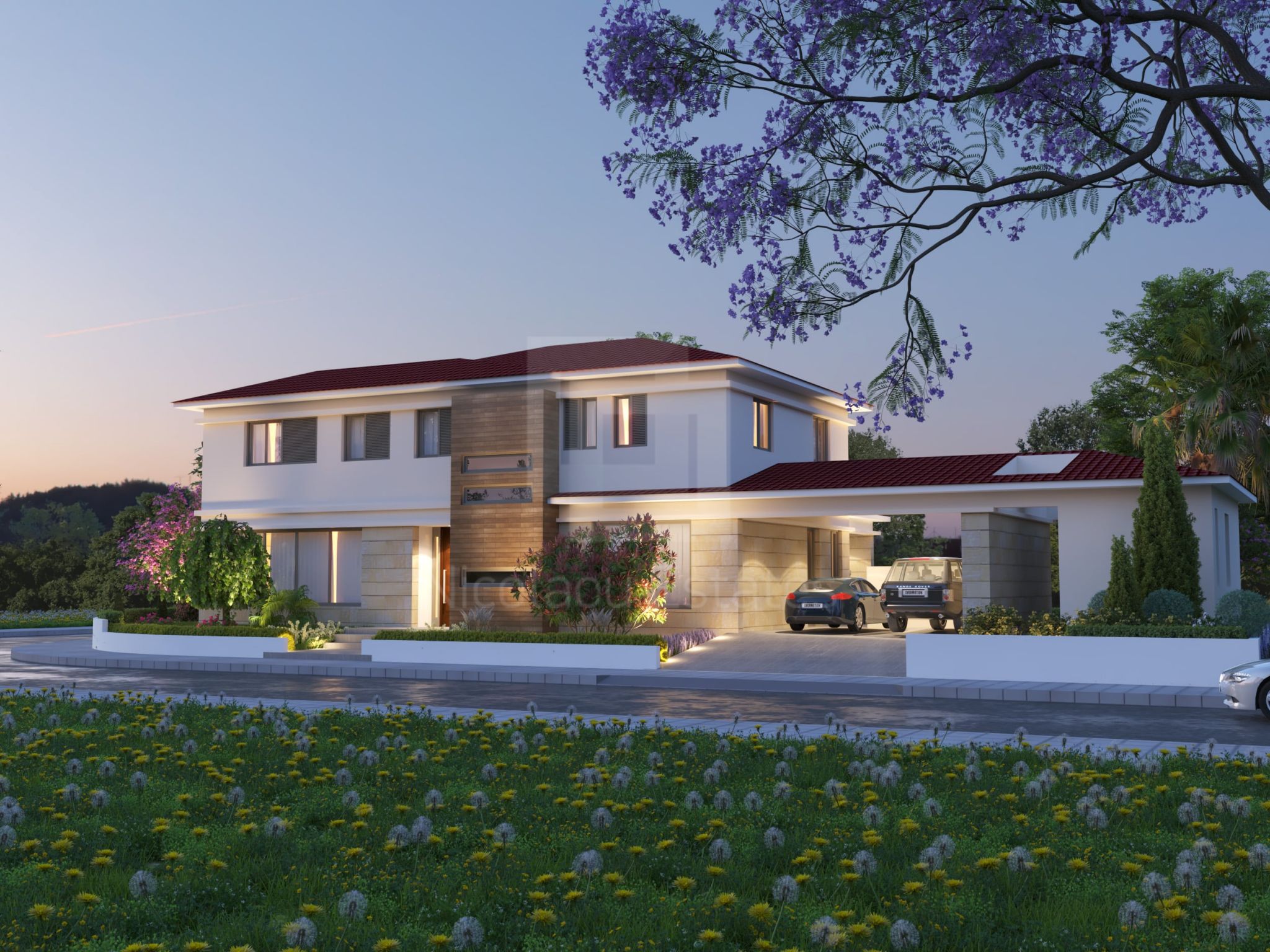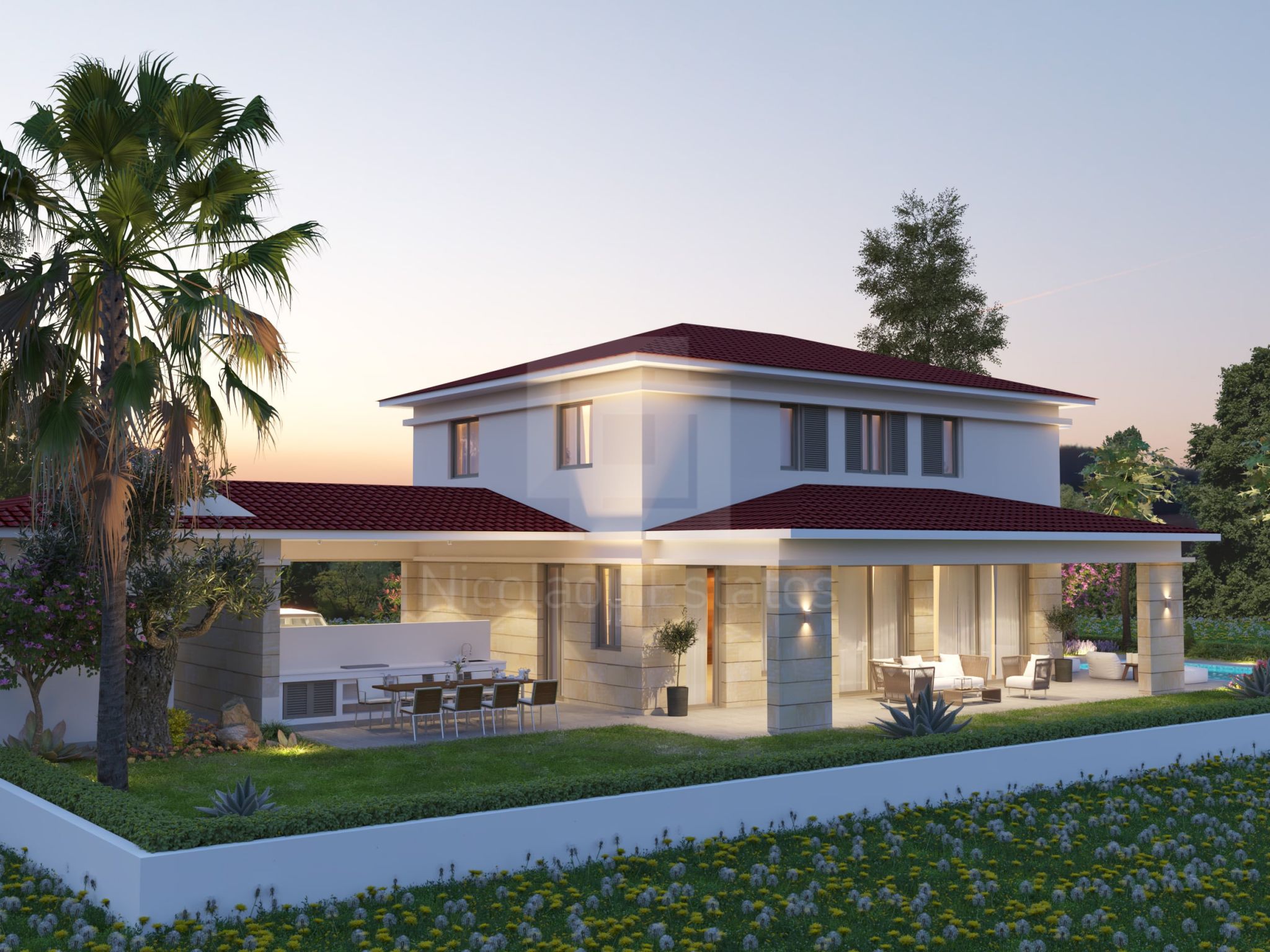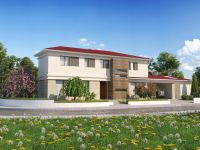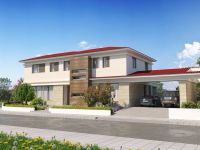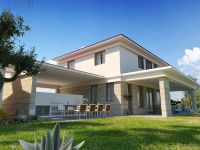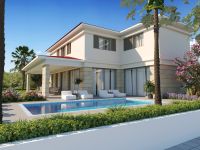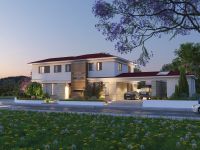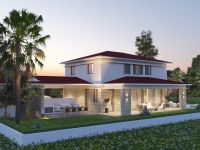 DESCRIPTION
This villa is situated in a tranquil oasis in Nicosia and combines all time classic luxury and design with modern high standards.

This all time classic architectural style combined with more fresh elements is carried through to the exterior garden and pool of the villa. Modern construction standards permit this property to be in the highest levels for energy saving both for all seasons.
The ground floor consists of two spacious living rooms both overlooking the gardens and swimming pool. A kitchen and an additional kitchenette will make family cooking and entertaining a breeze. The dining area is given its own area for ultimate privacy and relaxation.
The master bedroom on the first floor is an experience like no other with separate wardrobe room and en suite bathroom. Three more spacious bedrooms, one of which is en suite, complete this luxurious villa.
The villa would not be complete without beautiful landscaped gardens all around, a swimming pool for those hot summer days and more and detached personnel quarters.
Project features:
- plot 684sqm 
- Private swimming pool
- Open Plan living and dining spaces
- Energy performanve category A
- Underfloor heating with heating pump
- Air Conditioning units
Αυτή η βίλα βρίσκεται σε μια ήσυχη όαση στη Λευκωσία και συνδυάζει την κλασική πολυτέλεια και το σχεδιασμό με τις σύγχρονες υψηλές προδιαγραφές.
Αυτό το κλασικό αρχιτεκτονικό στιλ όλων των εποχών σε συνδυασμό με πιο φρέσκα στοιχεία μεταφέρεται στον εξωτερικό κήπο και την πισίνα της οικίας. Τα σύγχρονα πρότυπα κατασκευής επιτρέπουν σε αυτό το ακίνητο να βρίσκεται στα υψηλότερα επίπεδα εξοικονόμησης ενέργειας και για όλες τις εποχές.
Το ισόγειο αποτελείται από δύο ευρύχωρα σαλόνια με θέα στους κήπους και στην πισίνα. Μια κουζίνα και μια επιπλέον μικρή κουζίνα θα κάνουν το οικογενειακό μαγείρεμα διασκεδαστικό. Η τραπεζαρία έχει τον δικό της χώρο για απόλυτη ιδιωτικότητα και χαλάρωση.
Το κύριο υπνοδωμάτιο στον πρώτο όροφο είναι μια εμπειρία όπως καμία άλλη με ξεχωριστή ντουλάπα και ιδιωτικό μπάνιο. Τρία ακόμη ευρύχωρα υπνοδωμάτια, ένα εκ των οποίων διαθέτει ιδιωτικό μπάνιο, συμπληρώνει αυτήν την πολυτελή οικία.

Η βίλα δεν θα ήταν πλήρης χωρίς πανέμορφους διαμορφωμένους κήπους τριγύρω, πισίνα για εκείνες τις ζεστές μέρες του καλοκαιριού και ανεξάρτητες κατοικίες προσωπικού.
Χαρακτηριστηκά ακινήτου: 
- Οικόπεδο 684τμ


- Ιδιωτική πισίνα
- Ανοιχτός χώρος καθιστικού και τραπεζαρίας
- Ενεργειακή απόδοση κατηγορίας Α
- Υποδαπέδια θέρμανση με αντλία θέρμανσης
- Κλιματιστικές μονάδες
MAIN PROPERTY FEATURES
Brand New
Central Heating
Garage / Designated Parking
Garden
Private Pool
Resale
This 4-bedroom detached house in Latsia, Nicosia is being offered for sale at EUR 735.000 (VAT not included).
To arrange an appointment to view this and any other property from our website, please
call
or
email us
directly.
Other property suggestions
VL15303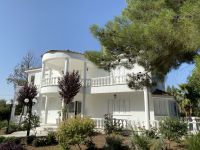 Nisou, Nicosia
3 Bed House/Detached For Sale
EUR 950.000
For internal use only:
50CHPI
VL15002
Aglantzia, Nicosia
4 Bed House/Detached For Sale
ΤΕΣΣΕΡΑ ΥΠΝΟΔΩΜΑΤΙΑ ΣΠΙΤΙ ΜΕ ΚΗΠΟ & ΙΔΙΩΤΙΚΗ ΠΙΣΙΝΑ ΣΤΟ ΠΛΑΤΥ - ΑΓΛΑΝΤΖΙΑ
EUR 850.000
For internal use only:
50CHPI
VL14971
Kallithea, Nicosia
4 Bed House/Detached For Sale
A House that ticks every box on your list!
EUR 800.000
For internal use only:
50CHPI
VL14807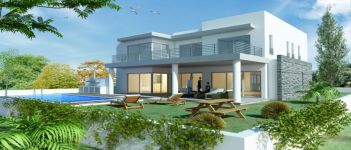 Archangelos, Nicosia
5 Bed House For Sale
ΣΠΙΤΙ ΠΕΝΤΕ ΥΠΝΟΔΩΜΑΤΙΩΝ ΣΤΟΝ ΑΡΧΑΓΓΕΛΟ ΔΙΠΛΑ ΣΤΗΝ ΚΑΤΑΠΡΑΣΙΝΗ ΠΡΙΟΧΗ ΠΕΔΙΑΙΟΣ
EUR 760.000
For internal use only:
50CHPI
VL14790
Strovolos, Nicosia
4 Bed House/Detached For Sale
ΜΟΝΤΕΡΝΟ ΣΠΙΤΙ ΤΕΣΣΑΡΩΝ ΥΠΝΟΔΩΜΑΤΙΩΝ ΜΕ ΥΠΟΓΕΙΟ ΧΩΡΟ ΣΤΟΝ ΣΤΡΟΒΟΛΟ
EUR 690.000
For internal use only:
50CHPI
VL14776
Strovolos, Nicosia
5 Bed House For Sale
ΣΥΓΧΡΟΝΟ ΣΠΙΤΙ ΠΕΝΤΕ ΥΠΝΟΔΩΜΑΤΙΩΝ ΜΕ ΜΕΓΑΛΟ ΚΗΠΟ ΚΑΙ ΔΙΠΛΟ ΣΚΕΠΑΣΤΟ ΓΚΑΡΑΖ
EUR 815.000
For internal use only:
50CHPI
VL14775
Strovolos, Nicosia
5 Bed House/Detached For Sale
ΣΥΓΧΡΟΝΟ ΣΠΙΤΙ ΠΕΝΤΕ ΥΠΝΟΔΩΜΑΤΙΩΝ ΜΕ ΜΕΓΑΛΟ ΚΗΠΟ ΚΑΙ ΔΙΠΛΟ ΣΚΕΠΑΣΤΟ ΓΚΑΡΑΖ
EUR 795.000
For internal use only:
50CHPI
VL14734
Latsia, Nicosia
4 Bed House/Detached For Sale
ΠΟΛΥΤΕΛΗΣ ΒΙΛΑ ΜΕ ΜΟΝΑΔΙΚΟ ΣΧΕΔΙΑΣΜΟ & ΥΛΙΚΑ ΥΨΗΛΗΣ ΠΟΙΟΤΗΤΑΣ ΣΤΟ ΔΑΛΙ
EUR 690.000
For internal use only:
47CHCH
VL14733
Latsia, Nicosia
3 Bed House/Detached For Sale
ΒΙΛΑ ΤΡΙΩΝ ΥΠΝΟΔΩΜΑΤΙΩΝ ΜΕ ΣΥΓΧΡΟΝΟ ΣΧΕΔΙΑΣΜΟ ΚΑΙ ΑΙΣΘΗΤΙΚΗ ΣΤΟ ΔΑΛΙ
EUR 685.000
For internal use only:
47CHCH
VL14571
Archangelos, Nicosia
4 Bed House For Sale
ΟΙΚΟΠΕΔΟ 700τμ - ΔΥΝΑΤΟΤΗΤΑ ΕΓΚΑΤΑΣΤΑΣΗΣ ΠΙΣΙΝΑΣ
EUR 750.000
For internal use only:
29EMGE
VL14027
Strovolos, Nicosia
4 Bed House/Detached For Sale
EUR 750.000
For internal use only:
50CHPI
VL13756
Strovolos, Nicosia
3 Bed House/Detached For Sale
Υπο Κατασκευή Μονοκατοικία Σε Εξαιρετική Τοποθεσία
EUR 690.000
For internal use only:
53GRKO