Three bedroom apartment in Nicosia, near Satiriko Theatre
ΔΙΑΜΕΡΙΣΜΑ ΤΡΙΩΝ ΥΠΝΟΔΩΜΑΤΙΩΝ ΣΤΗΝ ΛΕΥΚΩΣΙΑ ΚΟΝΤΑ ΣΤΟ ΣΑΤΙΡΙΚΟ ΘΕΑΤΡΟ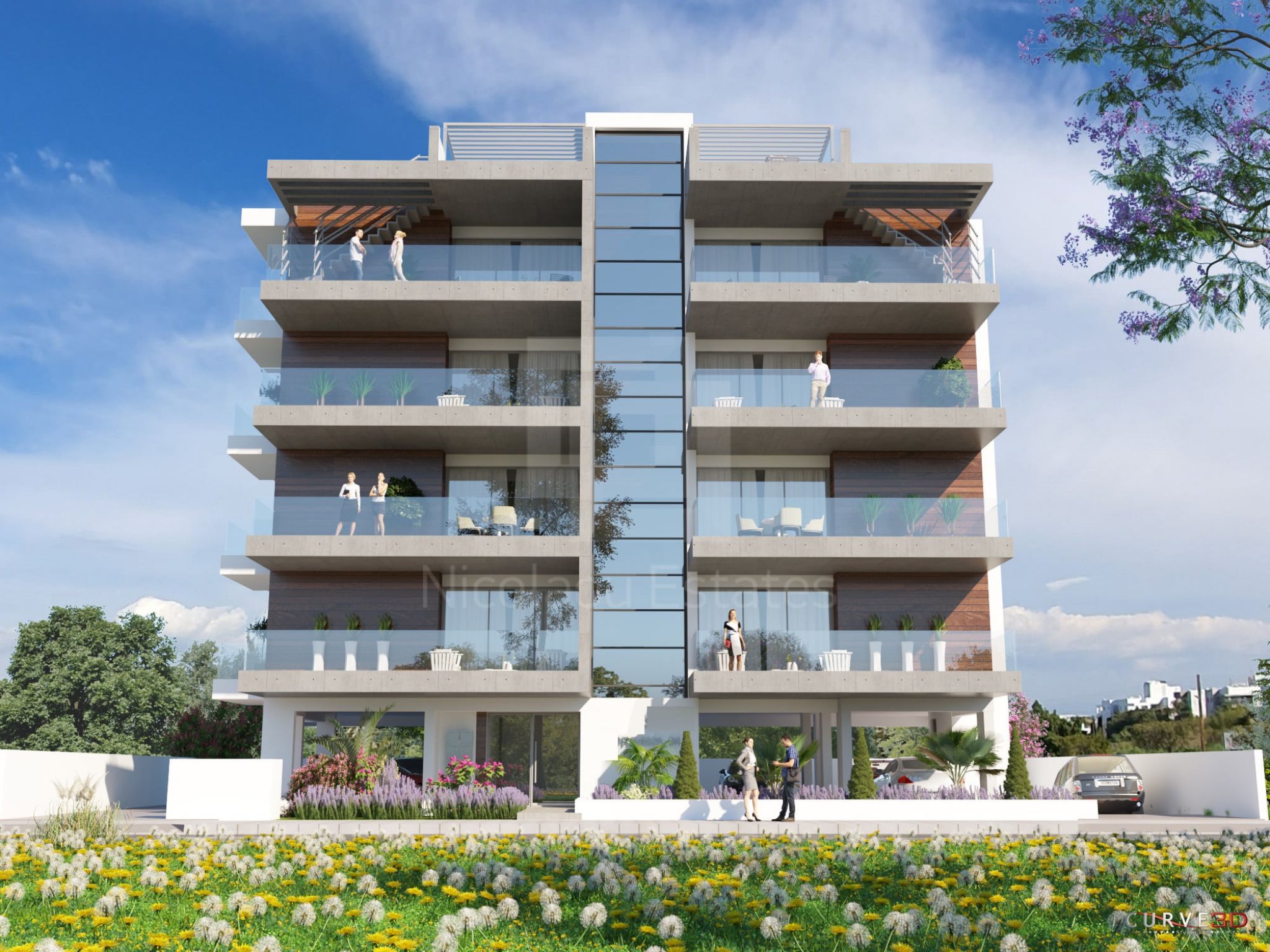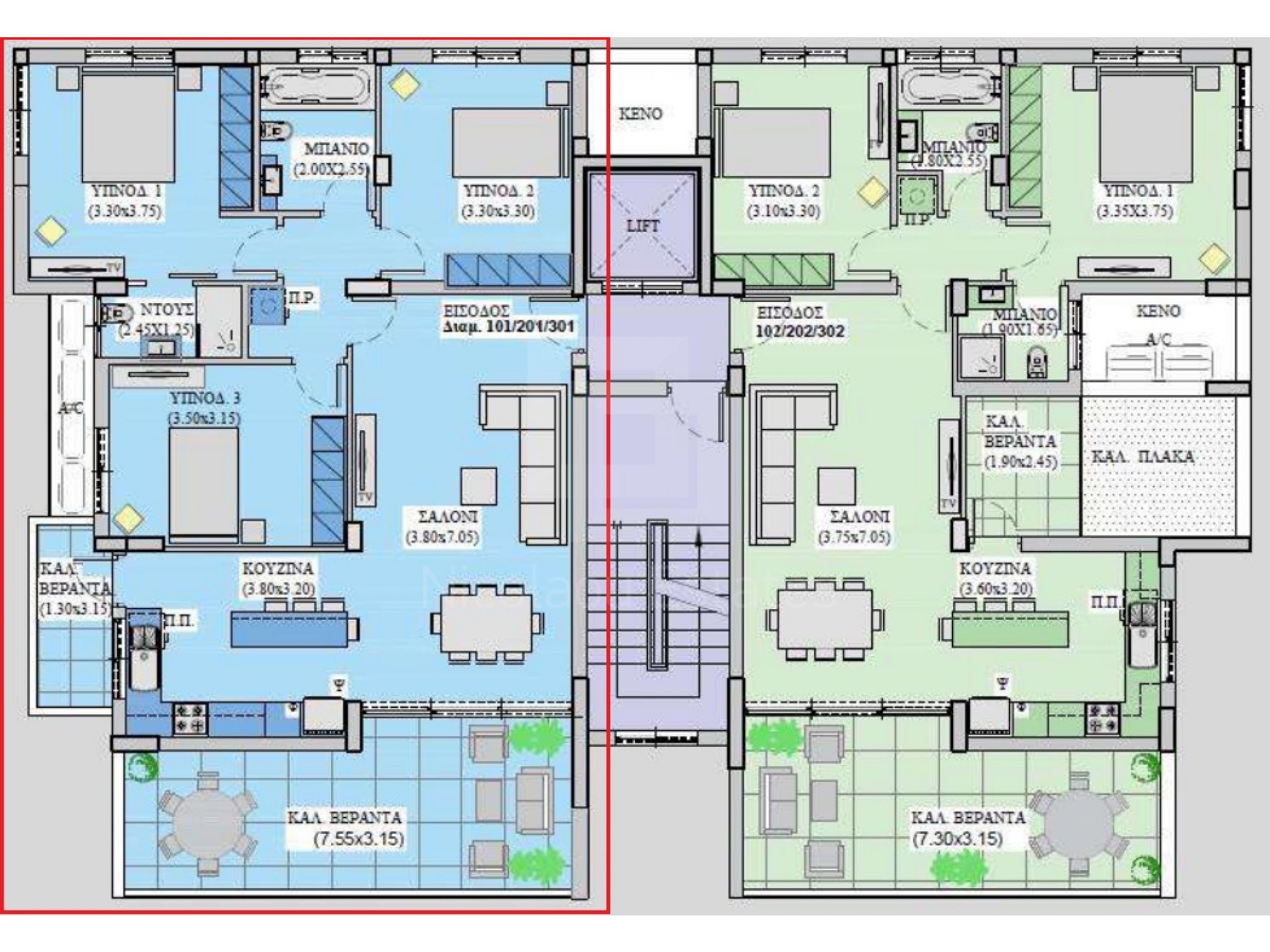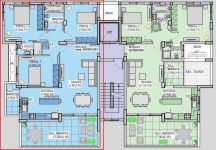 Office Code:
POLART-50CHPI
Total Floors:
4 (Floor No.: 1)
29
2
242
Completion Date:
SEPTEMBER 2022
Covered Internal Area:
106 m2
Download 2 property images
DESCRIPTION
This project is under construction in a quiet and privilege area in Nicosia, near Larnakos avenue and Satiriko Theatre. The location of the property offers easy access to Niocisa center and to many amenities (gas station, supermarkets, Akademias park, Nicosia University, schools, malls, etc).
The building consists of 8 luxury apartments on four floors.Each floor consists of two detached apartments (one of three bedrooms & one of two bedrooms). The rooftop apartments benefit from private roof gardens with an independent utility room.
TECHNICAL SPECIFICATIONS:
- Covered parking
- Warehouse
- Photovoltaic System 2KW
- Color video intercom
- Alarm system provision
- Provision for electric heating
- Provision for air conditioning
*The last available apartment for sale in the building.
---
Το έργο ανεγείρεται σε μια ήσυχη προνομιακή περιοχή στο Δήμο Λευκωσίας κοντά στην Λεωφόρο Λάρνακος και στο Σατιρικό Θέατρο. Η θέση του έργου προσφέρει εύκολη πρόσβαση στο κέντρο της πόλης καθώς και στα εμπορικά καταστήματα και τις ανέσεις της γύρω περιοχής ( π.χ. δημόσιο πάρκο Ακαδημίας, υπεραγορές, πρατήριο βενζίνης, γυμναστήριο , το Πανεπιστήμιο Κύπρου , σχολεία, εμπορικά καταστήματα , μέσα μαζικής μεταφοράς και χώρους αναψυχής).
Το κτίριο αποτελείται από 8 πολυτελή διαμερίσματα σε τέσσερεις ορόφους. Κάθε όροφος αποτελείται από 2 εντελώς ανεξάρτητα διαμερίσματα, ένα των 3ων υπνοδωματίων και ένα των 2 υπνοδωματίων. Τα διαμερίσματα του τελευταίου ορόφου επωφελούνται από ιδιωτικούς κήπους οροφής με ανεξάρτητο βοηθητικό δωμάτιο.
ΤΕΧΝΙΚΕΣ ΠΡΟΔΙΑΓΡΑΦΕΣ:
- Καλυμμένο χώρο στάθμευσης
- Αποθήκη
- Φωτοβολταϊκό Σύστημα 2ΚW
- Έγχρωμη θυροτηλεόραση 
- Πρόνοια συστήματος συναγερμού
- Πρόνοια για ηλεκτρικά σώματα
- Πρόνοια για κλιματισμό
*Το τελευταίο διαθέσιμο διαμέρισμα προς πώληση στο κτήριο.
MAIN PROPERTY FEATURES
Brand New
Garage / Designated Parking
Unfurnished
This 3-bedroom apartment in Aglantzia, Nicosia is being offered for sale at EUR 215.000 (VAT not included).
To arrange an appointment to view this and any other property from our website, please
call
or
email us
directly.
Other property suggestions
VL17315
Aglantzia, Nicosia
3 Bed Apartment For Sale
ΚΑΙΝΟΥΡΓΙΟ ΔΙΑΜΕΡΙΣΜΑ ΤΡΙΩΝ ΥΠΝΟΔΩΜΑΤΙΩΝ ΣΤΗΝ ΑΓΛΑΝΤΖΙΑ
EUR 195.000
For internal use only:
50CHPI
VL17310
Kaimakli, Nicosia
3 Bed Apartment For Sale
ΚΑΙΝΟΥΡΓΙΟ ΡΕΤΙΡΕ ΔΙΑΜΕΡΙΣΜΑ ΤΡΙΩΝ ΥΠΝΟΔΩΜΑΤΙΩΝ ΣΤΟ ΚΑΪΜΑΚΛΙ ΜΕ 119 Τ.Μ. ΒΕΡΑΝΤΕΣ
EUR 225.000
For internal use only:
50CHPI
VL17282
Dasoupolis, Nicosia
2 Bed Apartment For Sale
ΜΟΝΤΕΡΝΟ ΚΤΗΡΙΟ ΣΤΗ ΔΑΣΟΥΠΟΛΗ ΚΟΝΤΑ ΣΤΟ ΑΡΕΤΑΙΕΙΟ
EUR 230.000
For internal use only:
50CHPI
VL17280
Dasoupolis, Nicosia
2 Bed Apartment For Sale
2 ΥΠΝΟΔΩΜΑΤΙΑ ΔΙΑΜΕΡΙΣΜΑ ΣΤΗ ΔΑΣΟΥΠΟΛΗ ΣΕ ΜΟΝΤΕΡΝΟ ΚΤΗΡΙΟ ΜΕ ΓΥΜΝΑΣΤΗΡΙΟ
EUR 205.000
For internal use only:
50CHPI
VL17218
Agios Dometios, Nicosia
3 Bed Apartment For Sale
ΥΠΟ ΚΑΤΑΣΚΕΥΗ ΔΙΑΜΕΡΙΣΜΑ ΤΡΙΩΝ ΥΠΝΟΔΩΜΑΤΙΩΝ ΣΤΟΝ ΑΓΙΟ ΔΟΜΕΤΙΟ
EUR 227.000
For internal use only:
50CHPI
VL17216
Latsia, Nicosia
3 Bed Apartment For Sale
ΔΙΑΜΕΡΙΣΜΑ ΤΡΙΩΝ ΥΠΝΟΔΩΜΑΤΙΩΝ ΜΕ ΦΩΤΟΒΟΛΤΑΪΚΟ ΣΥΣΤΗΜΑ ΣΤΑ ΛΑΤΣΙΑ
EUR 215.000
For internal use only:
50CHPI
VL17204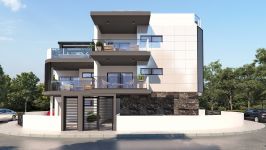 Lakatamia, Nicosia
2 Bed Apartment For Sale
ΔΥΟ ΥΠΝΟΔΩΜΑΤΙΩΝ ΔΙΑΜΕΡΙΣΜΑ ΣΤΗΝ ΛΑΚΑΤΑΜΙΑ ΣΕ ΑΔΙΕΞΟΔΟ ΔΡΟΜΟ ΜΕ ΠΡΑΣΙΝΟ ΧΩΡΟ
EUR 195.000
For internal use only:
50CHPI
VL17201
Aglantzia, Nicosia
2 Bed Apartment For Sale
ΔΙΑΜΕΡΙΣΜΑ 2 ΥΠΝΟΔΩΜΑΤΙΩΝ ΣΤΗΝ ΑΓΛΑΝΤΖΙΑ ΜΕ ΙΔΙΩΤΙΚΟ ΚΗΠΟ ΟΡΟΦΗΣ
EUR 235.000
For internal use only:
50CHPI
VL17198
Strovolos, Nicosia
3 Bed Apartment For Sale
ΠΟΛΥΤΕΛΗΣ ΔΙΑΜΕΡΙΣΜΑ ΤΡΙΩΝ ΥΠΝΟΔΩΜΑΤΙΩΝ ΣΤΗΝ ΛΑΚΑΤΑΜΕΙΑ ΜΕ ΦΩΤΟΒΟΛΤΑΪΚΟ ΣΥΣΤΗΜΑ
EUR 230.000
For internal use only:
50CHPI
VL17196
Strovolos, Nicosia
2 Bed Apartment For Sale
ΔΙΑΜΕΡΙΣΜΑ 2 ΥΠΝΟΔΩΜΑΤΙΩΝ ΣΤΟΝ ΤΕΛΕΥΤΑΙΟ ΟΡΟΦΟ ΜΕ ΚΗΠΟ ΟΡΟΦΗΣ ΣΤΟΝ ΣΤΡΟΒΟΛΟ
EUR 260.000
For internal use only:
50CHPI
VL17194
Strovolos, Nicosia
2 Bed Apartment For Sale
ΔΙΑΜΕΡΙΣΜΑ 2 ΥΠΝΟΔΩΜΑΤΙΩΝ ΣΤΟΝ ΣΤΡΟΒΟΛΟ ΜΕ ΕΥΚΟΛΗ ΠΡΟΣΒΑΣΗ ΣΤΟ ΚΕΝΤΡΟ ΤΗΣ ΠΟΛΗΣ
EUR 230.000
For internal use only:
50CHPI
VL17121
Agioi Omologites, Nicosia
2 Bed Apartment For Sale
ΠΟΛΥΤΕΛΗΣ ΔΙΑΜΕΡΙΣΜΑ 2-ΥΠΝΟΔΩΜΑΤΙΩΝ ΣΤΟΥΣ ΑΓΙΟΥΣ ΟΜΟΛΟΓΗΤΕΣ ΜΕ ΙΔΙΩΤΙΚΟ ΚΗΠΟ ΟΡΟΦΗΣ
EUR 261.000
For internal use only:
50CHPI
VL17120
Agioi Omologites, Nicosia
2 Bed Apartment For Sale
ΔΙΑΜΕΡΙΣΜΑ 2-ΥΠΝΟΔΩΜΑΤΙΩΝ ΣΕ ΜΙΑ ΑΠΟ ΤΙΣ ΠΙΟ ΠΡΟΝΟΜΙΟΥΧΕΣ ΠΕΡΙΟΧΕΣ ΣΤΟΥΣ ΑΓΙΟΥΣ ΟΜΟΛΟΓΗΤΕΣ
EUR 238.000
For internal use only:
50CHPI
VL16952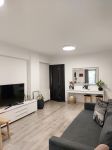 Acropoli, Nicosia
3 Bed Apartment For Sale
ΔΙΑΜΕΡΙΣΜΑ ΤΡΙΩΝ ΥΠΝΟΔΩΜΑΤΙΩΝ ΣΕ ΕΞΑΙΡΕΤΙΚΗ ΚΑΤΑΣΤΑΣ ΣΕ ΚΕΝΤΡΙΚΗ ΠΕΡΙΟΧΗ ΣΤΗΝ ΑΚΡΟΠΟΛΗ
EUR 195.000
For internal use only:
58CHIO
VL16951
Strovolos, Nicosia
2 Bed Apartment For Sale
ΚΑΙΝΟΥΡΙΟ ΔΙΑΜΕΡΙΣΜΑ 2 ΥΠΝΟΔΩΜΑΤΙΩΝ ΣΤΟΝ ΣΤΡΟΒΟΛΟ - ΣΤΑΥΡΟΥ
EUR 210.000
For internal use only:
50CHPI
VL16937
Latsia, Nicosia
3 Bed Apartment For Sale
ΜΟΝΤΕΡΝΟ ΙΣΟΓΕΙΟ ΔΙΑΜΕΡΙΣΜΑ ΤΡΙΩΝ ΥΠΝΟΔΩΜΑΤΙΩΝ ΣΤΑ ΛΑΤΣΙΑ
EUR 223.500
For internal use only:
50CHPI